Sustainability and face-to-face meetings in focus
After more than two years of pandemic restrictions, it was finally time for a physical gathering at JEC World 2022. Sustainability was a central theme for the fair, and it was evident that many of the visitors had missed meeting face to face. It was also an excellent opportunity to showcase our new innovative sustainable solutions and lightweight materials, and the interest in them turned out to be great.
The global composites community reunited at JEC WORLD 2022 from May 3rd to 5th for three busy, rewarding days of innovation, networking, and knowledge sharing. The industry was excited to reconnect in Paris after three years, and the show exceeded all expectations in terms of product launches, content, business activity and attendance. It was evident that people had missed the opportunity to meet in person, and Diab's stand became a veritable meeting place. It was crowded from morning to evening, with people standing in queues out in the isles.
The fact that our 100% thermoplastic panel for cabin interiors, won the JEC World Innovation Award 2022 in the Aerospace–Applications category created much interest. Many wanted to learn more about our thermoplastic and recyclable sandwich panel for aerospace cabin interiors and how we developed it to answer current challenges such as sustainability, REACH compliance and production rate increases.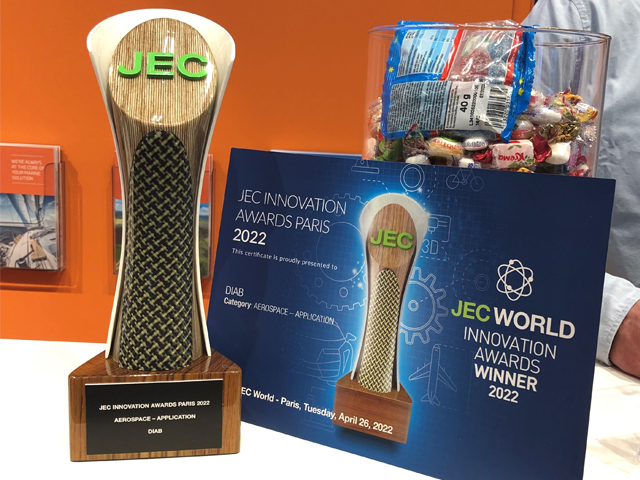 Sustainability and resource reduction in focus
Generally, sustainability was a hot topic at JEC World 2022, and there was much interest in recyclable materials and a circular economy. Here Diab has a lot to offer by providing materials and knowledge to use the sandwich core to reduce weight and energy consumption, prolong the product lifespan and create recyclable products, like our thermoplastic panel. We aim to be the market leader in PET foam core, which includes having the lowest carbon footprint and being the best partner for customers committed to reducing their carbon footprint and improving circularity.
One of the industry's challenges is rising prices and disruptions in supply chains. Here Diab's products and services can offer a solution. Sandwich composite materials make it possible to optimize the application and reduce raw material use, reducing costs. As a global company with offices on all continents, Diab can also meet the increasing interest in using local production facilities to secure access to materials and avoid disruptions in the supply chain.
Much interest in Diab's materials and solutions
Overall, there was considerable interest in Diab's new innovative sustainable solutions and lightweight materials. Besides our award-winning 100% thermoplastic panel for cabin interiors, our visitors wanted to know more about Divinycell U, Diab's new core material with excellent dielectric properties. It's is a recyclable polyetherimide (PEI) thermoplastic foam targeted for use in aerospace applications. Many also wanted to learn more about Divinycell MC60, the innovative next-generation structural core with best-in-class mechanical properties to low weight. The material's unique microcell structure renders substantial weight reduction and gives an 80% reduction in resin uptake (compared to equivalent PVC products on the market). Another new solution that attracted much attention was Diab's innovative Advanced kits that offer an optimized fit in the mould, reduced resin consumption, and improved cosmetics for infusion and prepreg applications, making them lighter than ever.
At JEC World 2022, we released the latest addition to MyDiab, the Sandwich Comparison Tool. Customers can use it to configure and check sandwich laminate's strength and stiffness and compare it with other sandwich or single-skin solutions. Moreover, we presented our robust team of engineers and product- and process specialists, the backbone of our new Diab Application Center. They will help our customers realize the total value of their composite designs.