Boost your performance and quality with Diab kitting solutions
Improve efficiency, lower cost and increase quality with pre-cut core material parts.
What is a kit?
A Diab kit is a tailor-shaped set of core elements. The kit can consist of simple pre-cut core panels, or complex 3D shapes made with CNC routing. Each piece is pre-cut and then numbered to fit precisely into its designated place in the mould. Kits are designed based on your application's requirements for weight, cost and quality. Our kit engineers take geometry and your manufacturing process into account when designing each kit. A kit drawing is supplied with each kit to define the assembly lay-up in the mould.
Why a kit?
You can significantly streamline the manufacturing process and improve the quality of composite applications with pre-cut parts (kits). By eliminating the on-site cutting of sheets, you can reduce manufacturing time and save labour and material costs. With easy assembly and exact fit, you can constantly achieve high quality in less time.
Boost performance in terms of weight, cost and quality
Shorten lay-up time of the core in the mould
Decrease moulded weight with improved surface quality
Reduce finishing work on laminate
Minimize the amount of waste handling
Simplify internal logistics and reduce stock items
Recover factory space
Why a kit from Diab?
Diab is a world-leading supplier of sandwich composite solutions with long experience in developing kits. With in-depth technical knowledge in most manufacturing methods for composites, we understand what criteria are essential for the core kit to fit the purpose. We select the most appropriate from our wide selection of finishes for form or flow, based on the requirements. We design and produce our kits in-house, and we provide a direct connection between our engineering department and yours. Our experts are often on-site to discuss directly with you, take measurements, and note potential variations during the kit development phase. Together, we find the optimal solution.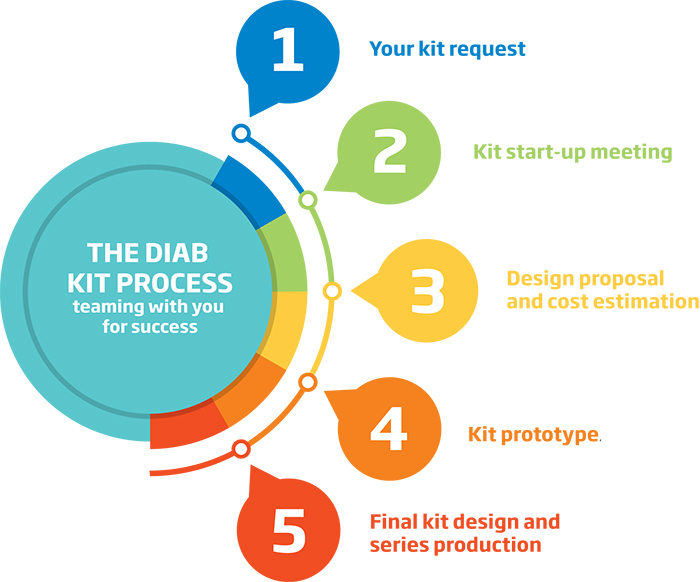 Industrial or advanced kit
Discussions early in the kit design phase will help ensure it meets all the requirements and expectations for performance, geometry and the manufacturing process. Based on this, our kit and production engineers decide what kit option is best for each case.
Industrial kitting is a good choice if your acceptable tolerances on the kit are higher and component weight is not super-critical.
Advanced kitting is the optimal solution where light weight, low resin usage and highest surface finishing are crucial.