2021-04-27
Diab becomes the first industrial client to introduce Brinja's quality measurements
Brinja and Diab are entering into a new collaboration at Diab's factory in Laholm, Sweden. Diab is a leading manufacturer of core materials for various types of sandwich composite solutions. Diab's high-performance core materials can now be found in applications all over the world, in industries such as wind power, marine, aerospace and transportation.
In this collaboration, Diab has chosen to install Brinja's quality measurements in its factory in Laholm to secure the quality of its production and the working environment for its employees. The following measurement values have been chosen: dust, humidity, temperature and movement. The measurement values are analysed continuously, and provide unique knowledge to improve development and drive progress.
This collaboration will start in April 2021 and will continue for about one year.
Error loading Partial View script (file: ~/Views/MacroPartials/MediaPicker.cshtml)
Project leader Ninna Olasdotter and operator Hampus Axelsson at Diab AB Laholm, Sweden.
"At Diab, we always strive for the best conditions for our coworkers and the highest quality for our products. Brinja's innovative quality measurements give us even better opportunities for developing and improving our product and production environment," says Anders Svensson, CEO of Diab AB in Laholm.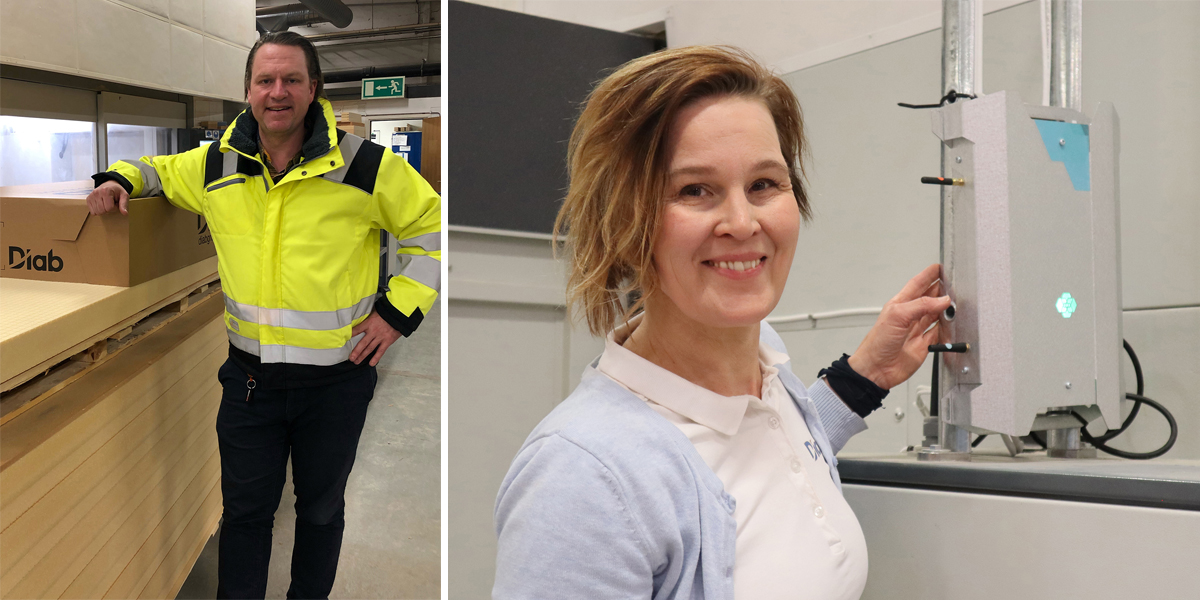 Anders Svensson, CEO, and Ninna Olasdotter, project leader, at Diab AB Laholm, Sweden.
"Brinja has been inspired by smart home systems, but has adapted robust products and services for the construction industry. We are now breaking new ground in the heavier manufacturing industry, where for some time now we have seen that our products and services are meeting a number of needs. We're very much looking forward to our new collaboration for analysing the production environment, so that Diab can make data-driven decisions and work proactively," says Xavier Leon, CEO of Brinja.
The goal is to secure production and the working environment
Through Brinja's quality measurements, Diab can secure the quality of its production, and work proactively on health and safety for employees at the factory. Measurements are made via Brinja's wireless unit with built-in sensors. This provides flexible measurements exactly where Diab wants them. The collection frequency of measuring points can be varied as required, from several times a minute to every 15 minutes. Diab can pre-empt damage or risks through the warnings it receives via the Brinja App if the set thresholds are about to be exceeded. This allows Diab to work in a proactive and focused way wherever necessary via Brinja's automated system.
About Brinja
Brinja is an innovative technology company that is working for a safe, sustainable and efficient construction industry – and now a manufacturing industry as well. With a focus on economic, ecological and social sustainability, Brinja is working to build a sustainable society. Since January 2018, Brinja has had clients from the construction industry (NCC, Skanska and Peab) and it has utilised feedback to successfully streamline several areas relating to the construction process. Brinja's services provide companies with a safer working environment and can secure construction projects. The automated processes are managed digitally, thus avoiding manual input. Brinja has expanded and evolved, and can now offer these services:
The evacuation system
Quality measurements
Lighting control