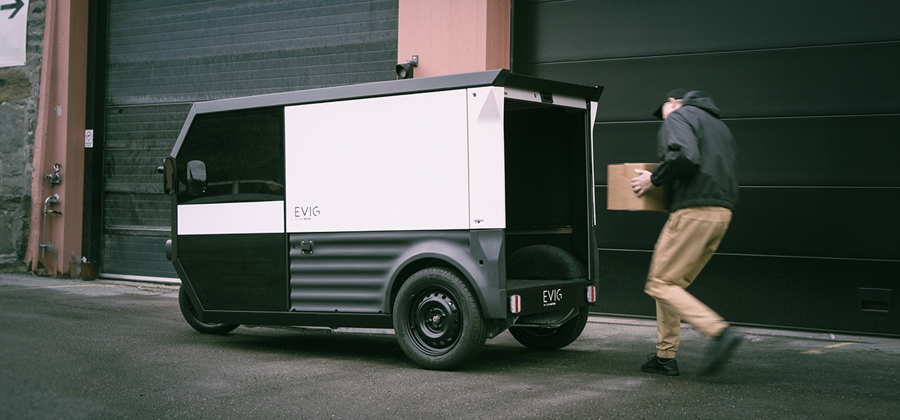 The EVIG vehicle from Clean Motion - designed to be as lightweight as possible on all levels
Clean Motion, based in Sweden, started in 2010 with a mission to find a solution for sustainable transport in urban environments. Fast forward until now Clean Motion has both a solid understanding and proven solution for what is the future of mobility - transportation solution suited for daily use, with a vehicle somewhere between a conventional car and a scooter.
Clean Motion helps any B2B companies who operate within the delivery business in the context of urban environments. There is a significant gap in the market for vehicles able to support these businesses in scaling their fleet sustainably - financially and environmentally. Clean Motion's vehicles are designed to fill this gap.
EVIG answers the critical need for electric delivery vehicles for cities. It is optimized for last-mile deliveries in urban environments, able to carry anything from pallets and packages to post and food. For things that need to be moved in cities, with minimal impact.
EVIG takes energy efficiency to a new level by having the lightest vehicle weight to cargo volume on the market. Thereby maximizing utilization while minimizing energy consumption over time. Its solar panel roof, connectivity enabled services, and flexible cargo space are some of its key benefits.
The EVIG vehicle is designed to be as lightweight as possible on all levels - to maximize energy efficiency. From component design of nuts and bolts to battery weight to the material choices of the chassis to the thickness of the solar panel board.
Diab has supplied PET foam to the light-weight sandwich panels in the vehicle structure. For the lowest carbon footprint and total recyclability also the sandwich laminates are made of PET, that is fully thermoplastic panels. This is what we call "Going Circular".
"The fully PET Sandwich has been developed in close cooperation and with excellent support from Diab" says Per Jonsson, owner of SwedFoam Development.
THE EVIG VEHICLE FACTS
MAX SPEED: 60km/h
CARGO SPACE: 2.5m³
CARGO WEIGHT: 400kg
SOLAR POWER: 570W
RANGE: 100/200km
Get as PDF