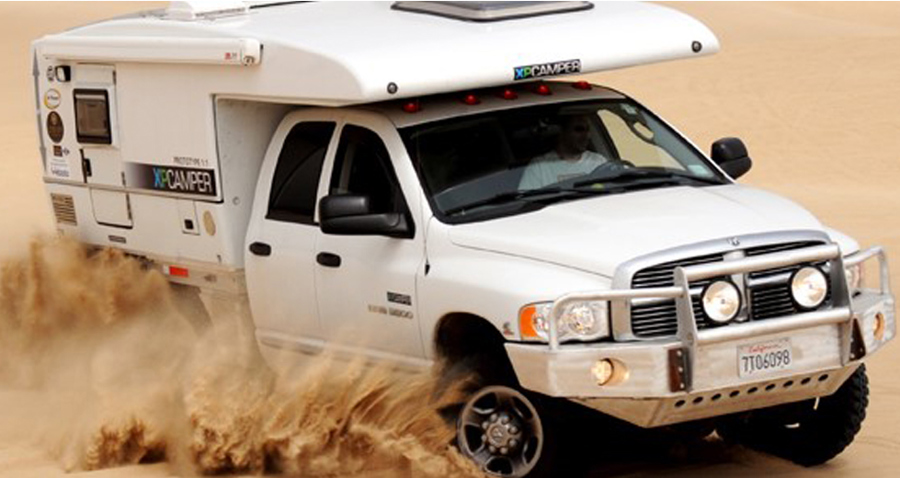 XPCamper the first sandwich composite 'pop-up' camper
After seven years of development, San Francisco-based XPCamper has launched the world's first 'pop-up' camper that features a monocoque sandwich composite body.
Developed for both on- and off-road use, the expedition grade camper uses Diab-cored sandwich composites to achieve a lightweight body that is extremely strong and durable. The prototype has already successfully completed an arduous, year-long testing program covering 40,000 kilometers (25,000 miles) across all types of terrain (tarmac, dirt roads, sand dunes, etc.). Such is the strength of the camper that when it was subjected to an unplanned heavy impact with the branch of a tree it suffered only minor cosmetic damage.
Other benefits of going the sandwich composite route include high levels of thermal and acoustic insulation and the fact that the body is virtually corrosion and maintenance free. By choosing to produce the body as a one-piece monocoque, XPCamper has eliminated any potential weak points or areas where leaks could occur.
Other North American firsts for the camper include a patented remote-controlled, hydraulic pop-up system, the use of all diesel appliances for safety and efficiency and an optional fuel cell power system.
The camper is designed to mount easily and securely onto a flatbed truck with a minimum payload rating of 900 kilograms (2,000 lbs.) such as the Ford 250.
XPCamper will be selling the camper in various configurations. The base level for the 'do it yourself' enthusiast includes the camper body, dual pane windows, doors and the remote-controlled, hydraulic lifting mechanism. Additional individual items such as diesel appliances will be available separately.
A fully loaded and installed turnkey model (with XPCamper carrying out the modifications to the customer's flat bed truck) includes a queen-size bed, full kitchen, dinette and bathroom facilities, built-in storage solutions, high-efficiency lighting, exterior CCTV camera, solar panels and a fuel cell power system.
Get as PDF