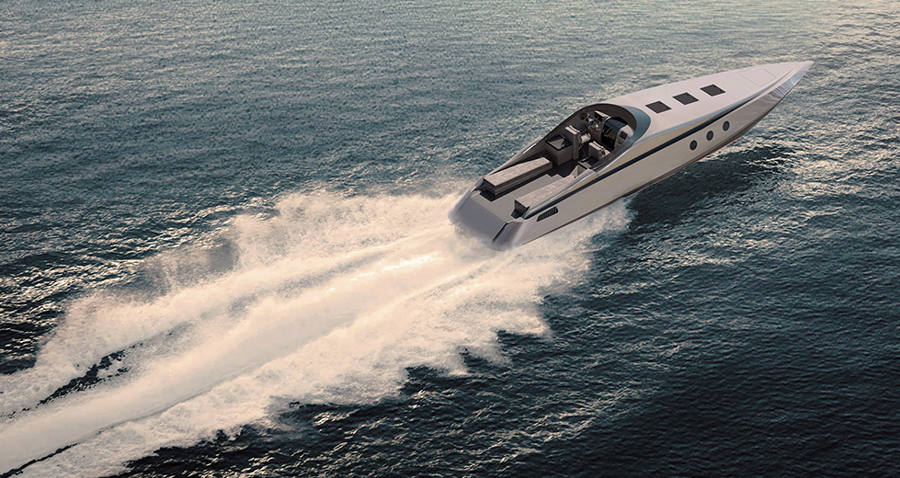 Diab Divinycell HM foam powers new electric Mayla 44 - The radical 44 footer is lighter and faster than ever
"Weight is only good in a steamroller," – was a simple yet remarkably topical quote from Uffa Fox (1898-1972), the renowned designer of some of the first fully planing sailing dinghies. This approach is just as applicable today, with naval architects and owners striving to create more efficient more sustainable craft. Mayla Yacht shares Fox's passion for lightweight construction and is clear that weight reduction is the key factor in building more sustainable yachts. The Mayla 44, an ultra-high performance electric power boat currently in build at Nova Mare, is the latest Diab marine project with Nova in Dubai.
All-electric carbon fibre speedster
The Mayla 44 promises to create quite a stir when the first hull is launched early next year. Conceived by a pair of passionate sailors aiming to create a seriously fast motor yacht unlike anything else afloat, the radical 44 footer blends classic styling elements with a state-of-the-art composite construction and electric drivetrain. The Mayla has been designed around the patented Petestep® hull technology, which uses uniquely shaped deflectors to push water downwards and to the stern of the yacht, generating energy savings of up to 35% as well as reducing slamming and increasing passenger comfort.
Even with the novel hull design, the Mayla 44's 70 knot plus top speed requires an extremely lightweight construction, and the decision to build a completely carbon fibre full-sandwich composite structure was taken very early in the project design cycle. 
Quality in manufacturing
With outright weight reduction a priority, Mayla, Nova and the project's structural engineers sought a lightweight yet reliable core material tough enough to manage the high loads generated by the Mayla's impressive top speed. Earlier projects - Diab and Nova Mare worked together on Nova's first build, the lightweight all-carbon Aeolos P30 sailing yacht launched earlier in 2022 and now in series production – had built significant confidence in the Diab range and Divinycell HM was a clear choice.
Divinycell HM is a high-performance structural core designed specifically for fast marine hulls such as the Mayla 44, where higher toughness is required. It combines a very high shear strength with an outstanding shear elongation. As a result, Divinycell HM is an extremely tough product, capable of absorbing the high dynamic impacts and slamming loads generated by modern high speed craft. Its elongation exceeds the requirements of ISO 12215, GL and ABS rules, allowing engineers to create lighter structures without compromising strength or safety. High compressive properties also provide excellent resistance to denting and skin wrinkling when thin carbon fibre skins are used. Divinycell HM also provides a high operating temperature, thus reducing the risk of print through on dark hulls and opening up a full spectrum of hull colour possibilities.
"For performance marine craft, especially a powerboat with such a high top speed as the Mayla, we recommend Divinycell HM core. Diab cores offer the highest strength-per-weight ratio for all marine applications and with our HM foam, builders can achieve  maximum performance and cost-efficiency as well as being confident their craft can handle the toughest ocean conditions," said Lars-Magnus Efraimsson, Sales Manager MEA, Diab.
Low temperature curing epoxy prepreg sandwich construction
Nova Mare is perhaps unique amongst advanced composite boat builders in that its parent group, Nova Group, also includes a prepreg manufacturer providing a range of epoxy materials tailored to each projects' requirements. Notus Composites, also based in the UAE, has been formulating and manufacturing epoxy prepregs since early 2015, with its NE7 low temperature system being the latest addition to the range. For the Mayla 44, Notus prepreg resins will be combined with a range of woven, stitched multiaxial and unidirectional carbon fibre reinforcements on either side of the Divinycell HM cores.
Divinycell HM cores have been extensively evaluated in previous Nova projects with the company also completing a program of mechanical testing to validate the properties of the new Mayla 44 laminates. In-house composite tooling produced from CNC milled master plugs has been polished to perfection and the Nova technicians are scheduled to begin prepreg lay up and positioning of the first Divinycell core sections in November.
For this project Diab has supplied Divinycell HM 80 and 130 cores in a range of thicknesses for the deck, internal structure and the complete hull surface including the hull bottom.
Lighter than ever
Diab is proud of its long heritage and market leading position as a core supplier to the most innovative applications. As both commercial and leisure marine sectors grow more focused on sustainability improvements, Diab's role in enabling the creation of even lighter composite structures becomes even more important. Reducing weight with well-engineered Diab cored components not only enhances performance, but designers can also now increase passenger and load carrying capacity and extend range as well as accommodating the required battery systems.
Christopher Gelsdorf, co-Founder of Mayla Yacht, said "We believe that more sustainable yachts are only possible with radical weight reduction. The lightweight pre-preg carbon fibre sandwich construction we use for the Mayla 44 enables a hull weight of only 1.35T (versus more than 4T for traditional high-performance yachts) creating less resistance and less drag. At Mayla Yacht and Nova Mare we build lighter, reducing material usage and time in production as well as increasing performance and extending range. Lighter than ever is really the only way to go."
"Divinycell HM core is a great fit for our prepreg process. Not only do we get the high toughness and mechanical properties we need for such a fast vessel, but HM foam also provides excellent bonding with our prepreg resin films, minimal resin uptake and trouble-free processing during our low temperature cure cycles," added Oliver Janaranjana, Operations Manager, Nova Mare.
Diab continues to follow the build process of the Mayla 44 and is looking forward to seeing this stunning vessel on the water in 2023.
Facts
Name: Mayla 44
Length over all (LOA): 13.41 m (44ft)
Width: 3.05 m (10ft)
Weight (dry): 6,200 kg
Max capacity: 8 people
Top speed: 70+ knots
Range: 70+ nm all electric (270+ nm with range extender)
More info: www.mayla-yacht.com
Get as PDF