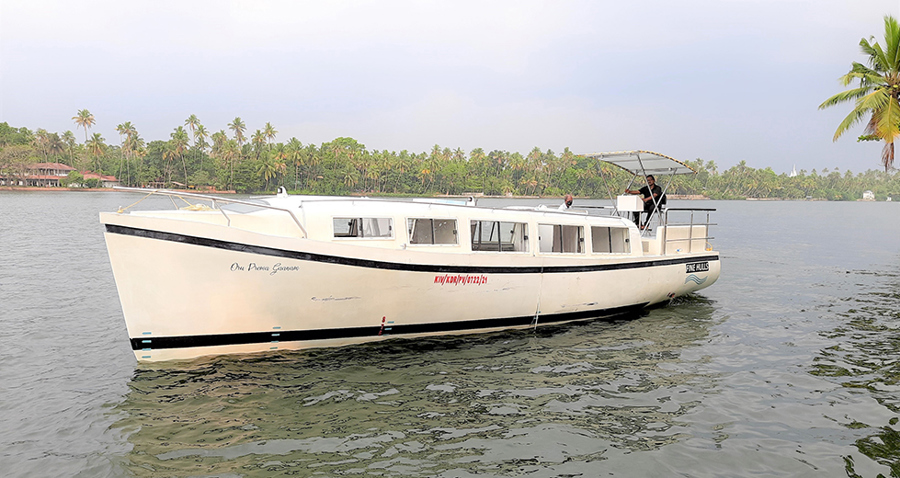 A Love Song for the backwaters of Kerala
With the ambition to bring bold changes to boat design, Fine Hulls created full-fledged hull form construction using vacuum infusion and Divinycell foam sandwich core.
Fine Hulls offers research-based turn-key solutions and optimized designs to the maritime industry, using state-of-the-art computational and experimental tools and construction processes. The company has mainly manufactured hydrokinetic turbine ducts, precision hull forms for hydrodynamic testing on a laboratory scale, and various fiberglass products using single skin or sandwich construction.
This time the objective was to construct a pleasure yacht that could be enjoyed in the scenic backwaters of Kerala and tap into the tremendous heritage tourism potential. The boat, named "Oru Prema Gaanam" (A love song), was designed by Fine Hull's owner Prof. V. Anantha Subramanian, and built in Chennai with the Indian Register of Shipping accreditation for the yard.
Unmatched stiffness and weight-saving
The pleasure yacht is made entirely of sandwich composite construction. The general scheme is quadriaxial fibers with Divinycell core (HM80) for the hull, superstructure, and inner deck. The outer deck and bulkheads have Divinycell (PN). The aft deck module with deck and seating is integrally molded as a single unit in the same vacuum infusion process. The sandwich composite gives unmatched stiffness, weight-saving, strength with a superior glass fiber to resin ratio.
"It has been proven in our experience that sandwich composite fully taps not only the advantages of strong, lightweight construction with higher stiffness, but also provides better product homogeneity, as compared with single skin manual molding," says Prof. V. Anantha Subramanian. "There is definitely a higher initial investment by way of vacuum pumps, consumables. However, there are long-term benefits which will pay for themselves in the long run."
Lightweight with excellent gravity control
The design commenced with hydrodynamic evaluation of the hull form with towing tank tests, optimizing the hull for space, powering, and comfort. The project progressed with the manufacture of the plug, negative form with the participation of an entire project group comprising specialist research graduates, technicians, the Indian Register of Shipping for design approvals, and the construction yard.
"Thanks to Diab, we have a lightweight yacht. Though as a designer and builder, I was scrupulously aware of weight control, in the final reckoning the weight and center of gravity control were excellent," concludes Prof. V. Anantha Subramanian.
Get as PDF