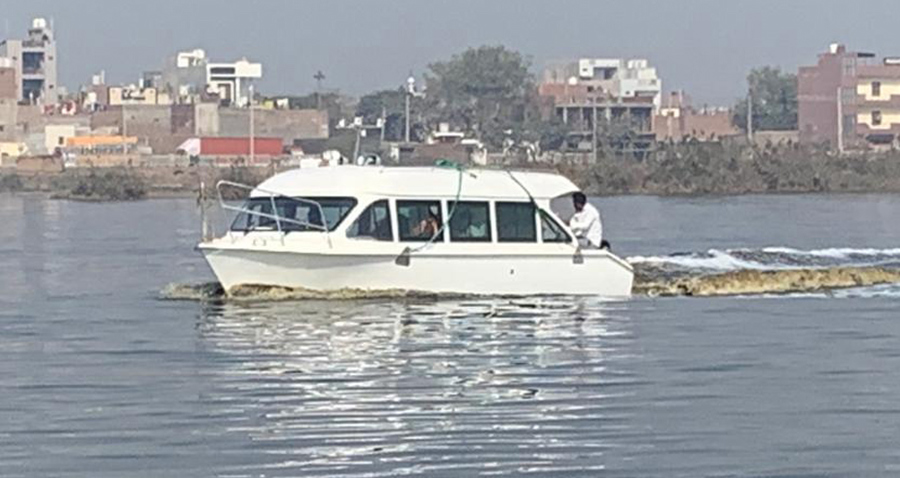 A 22-Seater FRP Boat mastering the delicate balance between lightness and strength
When Gee Pee Reinforced Products was contracted to build a 22-seater FRP Boat for the Assam State Disaster Management Authority, they wanted to convert from single skin to sandwich construction to reduce weight and increase speed.
Gee Pee Reinforced Products Private Limited is a boatyard based in Gurgaon, Haryana, India. It is primarily catering to Government Sector for Boats required for Patrolling, Flood Management & Rescue, Survey, and Transport.
Gee Pee explored using sandwich composites and vacuum infusion when constructing their 22-Seater FRP Boat for the Assam State Disaster Management Authority (ASDMA) project. Traditionally they had used single skin construction, but the added weight was a disadvantage because they needed to meet 15 knots with 22 men on board.
Stronger yet faster
Gee Pee sought help from Diab for sandwich construction guidance, helping them convert the single skin construction to sandwich through their technical team and CCG. The new sandwich construction with Divinycell HM reduced weight considerably, offered better mechanical properties, met the speed requirements, and saved time in the boat's construction, which was positive for both the production and sales team. Divinycell HM is a high-performance structural core designed for fast marine hulls where higher toughness is required. It combines a very high shear strength with an outstanding shear elongation. The new construction also enabled Gee Pee to move along the value chain as they could now offer better, future-proof technology to their customers.  
Vacuum core infusion gave further optimization
Gee Pee first considered using vacuum bagging but chose not to as it did not offer much difference in weight over hand lay-up, so it would not have improved speed requirements. Instead, they decided to use vacuum core infusion because it further optimized weight benefits, offered better mechanical properties, better impact resistance, and saved time for production.
The technical team from Diab helped them to introduce core infusion technology in their factory, offered technical guidance, and provided core infusion training. Gee Pee's personnel, including the workers on the floor, were very excited to learn the technology and showed keen interest in using it. Gee Pee Reinforced Products now intends to use sandwich core construction in future projects for similar size boats.
Get as PDF