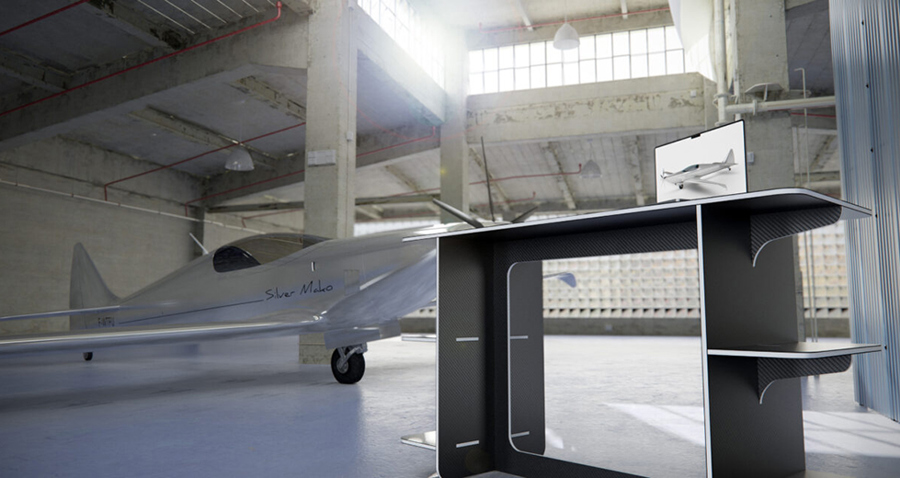 M6470: Technology at the service of Design
There are materials that play with time and the complexity of a design. Carbon fibre is undoubtedly one of the most inspiring materials for a designer. It offers creators the possibility of uninhibited creativity while offering unique properties subtly combining fluidity and robustness with a touch of softness comparable to that of natural wood. As aesthetic as it is functional, carbon fibre responds to current environmental challenges through its unique properties. It combines longevity and recyclability, and with legendary lightness allows a significant reduction in carbon footprint. More than a century old, carbon fibre has revolutionised everyday life, including our interiors, managing to lighten the layout while providing a touch of elegance and exceptional durability. Combined with carbon fibre, a recycled and recyclable foam developed by Diab, the Divinycell® F50 has contributed to the manufacture of a lightweight panel and a raw aesthetic.
Specialised in structural foams core and composite materials for over 70 years, Diab has been able to develop, improve and refine materials that meet performance requirements, but also new environmental challenges. Having strong global presence and experience, particularly in the Aerospace, Marine, and Renewable energy industries, the Swedish company turned to Sylvain Mariat, a renowned international designer in the field of Cabin interior Aerospace, in order to give a new dimension to this material. Diab and Sylvain Mariat have thus collaborated for a style exercise in order to bring to life the carbon and foam core material through the object.
To that end, Sylvain Mariat was inspired by the Mi-Century desk in beechwood designed by Gerrit Rietveld for Cassina in 1934. An iconic work of art whose design timelessly and perfectly fits with the composite material. If Diab and Sylvain Mariat were able to take advantage of these materials to create surprising furniture, the name of this piece of furniture which will only be produced in three exclusive copies, is the fruit of an innovative and a "out of box" reflection in order to bring to this achievement both artistic and technical dimensions. This work of art will bear the letter M, initial of Mariat and the number 6470 corresponding to the actual weight of the desk. Developed as a tribute to his artistic prowess, the French designer indeed found it interesting to use carbon fibre and Foam core material, designing the desk with an assembly similar to that which could be found with cardboard. Authenticity and simplicity, both aesthetically and technically, allows the M6470 to leave the imprint of artisanal know-how and craftsmanship over time.
Beyond the aesthetic dimension, Diab and Sylvain Mariat have also endeavoured to bring a pure and simplified design within the scope of a possible industrial development, which however should never see the light of day. For the design of the various elements of this tribute work of art, Diab called on the unique expertise of New Design'Air company based in south of France for the production of foam cored carbon panels. New Design'Air is specialised in Cabin interior manufacturing and in finishing of high-quality level product for VIP market.
"Carbon fiber is without a doubt one of the most harmonious contemporary materials. Its technicality and ability to interpret any shape make it an incredible support for a designer. The collaboration with Diab was not only a real human adventure, but also the opening of a new chapter in the world of contemporary design. »Declared Sylvain Mariat.
"Collaborating with Sylvain was a real pleasure and a moment of sharing our skills and experience, I would like to thank Sylvain for his creativity, he has highlighted our foam core to the perfection for this Work of Art. Also, I would like to thank New Design'Air for their support" declared Aurélien Lafforgue EVP BU Marine, Industry, Aerospace for Diab.

For more information:
Sylvain Mariat graduated from the École Nationale Supérieure des Arts Appliqués et des Métiers d'Art (school of arts and design), the Birmingham   Institute of Art   &   Design, and from the National Engineering School of Saint-Etienne (ENISE). He won several major design competitions. He is currently responsible for a creative department within a major aircraft manufacturer and also has the opportunity to imagine and create, apart from his main activity, objects, vehicles, places, furniture such as recently with the M6470.
Get as PDF